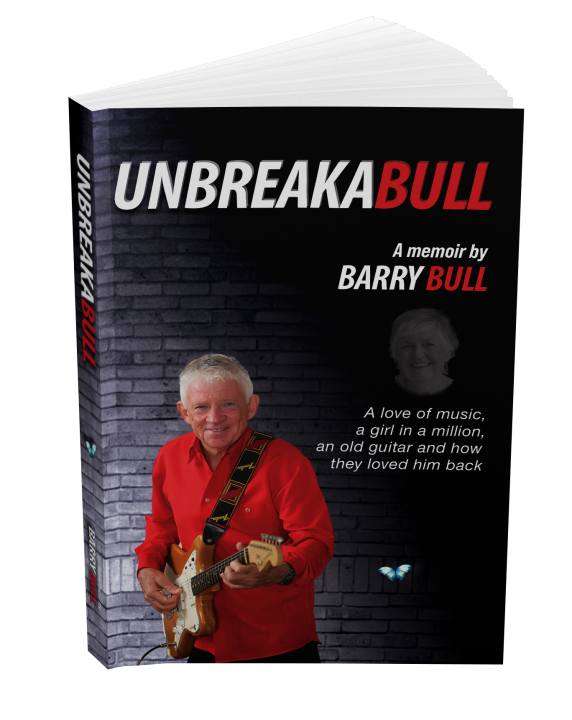 Unbreakabull is an intimate narrative that describes Barry Bull's extraordinary life in music. It is typical of a restlessness man's drive to take possession of opportunity and search beyond existing boundaries with no finish line.
SKU:

unbreakabull-book

.
Category: Related.
Description
Limited edition signed print book.
One man's unique story, yet one which will inspire and uplift with its message of love, loss and music.
Barry Bull's concert is rocking along in its usual rollicking fashion when the music suddenly stops and his world comes crashing down.
In one brutal moment he loses his wife of fifty-two years. The grief that follows is unfathomable. There is nothing that all his close family and many loyal friends can do to rescue him from the depths of despair that follows. A life without the "support act" he first met in a teenage romance
seems unimaginable.
It was Kayleen, who gave him the strength to carry him through all that a life at the top of the Australian music industry can throw at him. A world without her is beyond belief. He shuts himself away from a world that has brought him so much success and happiness.
Finding a way back to a tolerable daily routine needs a road map that doesn't seem to exist. It is only when he discovers a cause close to his family's heart that he can set out on the long and arduous journey that awaits.
Sustained by memories of years spent mixing business and pleasure with many of the world's top music stars, he eventually fights his way back from despair.
Barry is a battler. He realises grief is another of life's battles to be overcome.
This intensely candid account of his journey – escalating his multi-award winning Toombul Music to iconic status in the Australian music industry and the backstage insights of rock 'n' rolls' greatest names – is one for all who have loved and lost and have music in their soul.