Home Page New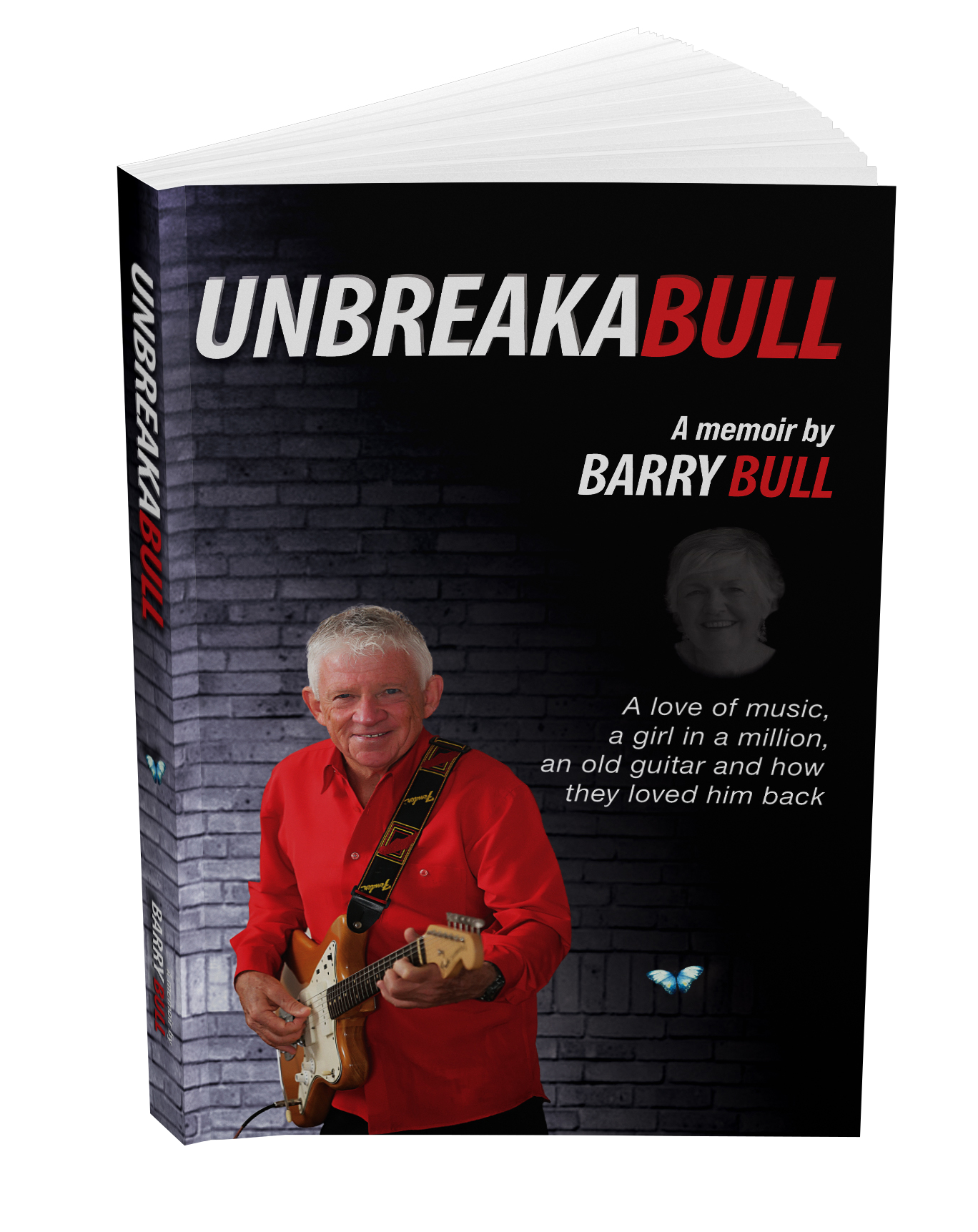 UNBREAKABULL
Barry's latest book - out now $25.
A love of music,
A girl in a million,
An old guitar and how
they loved him back
"Barry has delivered an inspirational feast of courage in adversity and a solution to one of life's greatest stressors: the loss of a beloved partner."
Dr. Dimity Dornan AO
Executive Director and Founder, Hear and Say
"From tears to laughter, this is a read that will take you on a ride through all of the emotions, but will leave you feeling filled with love."
Roxanne McCarty O'Kane
Writer
"A terrific read written by an amazing Australian"
Andrew Wallace MP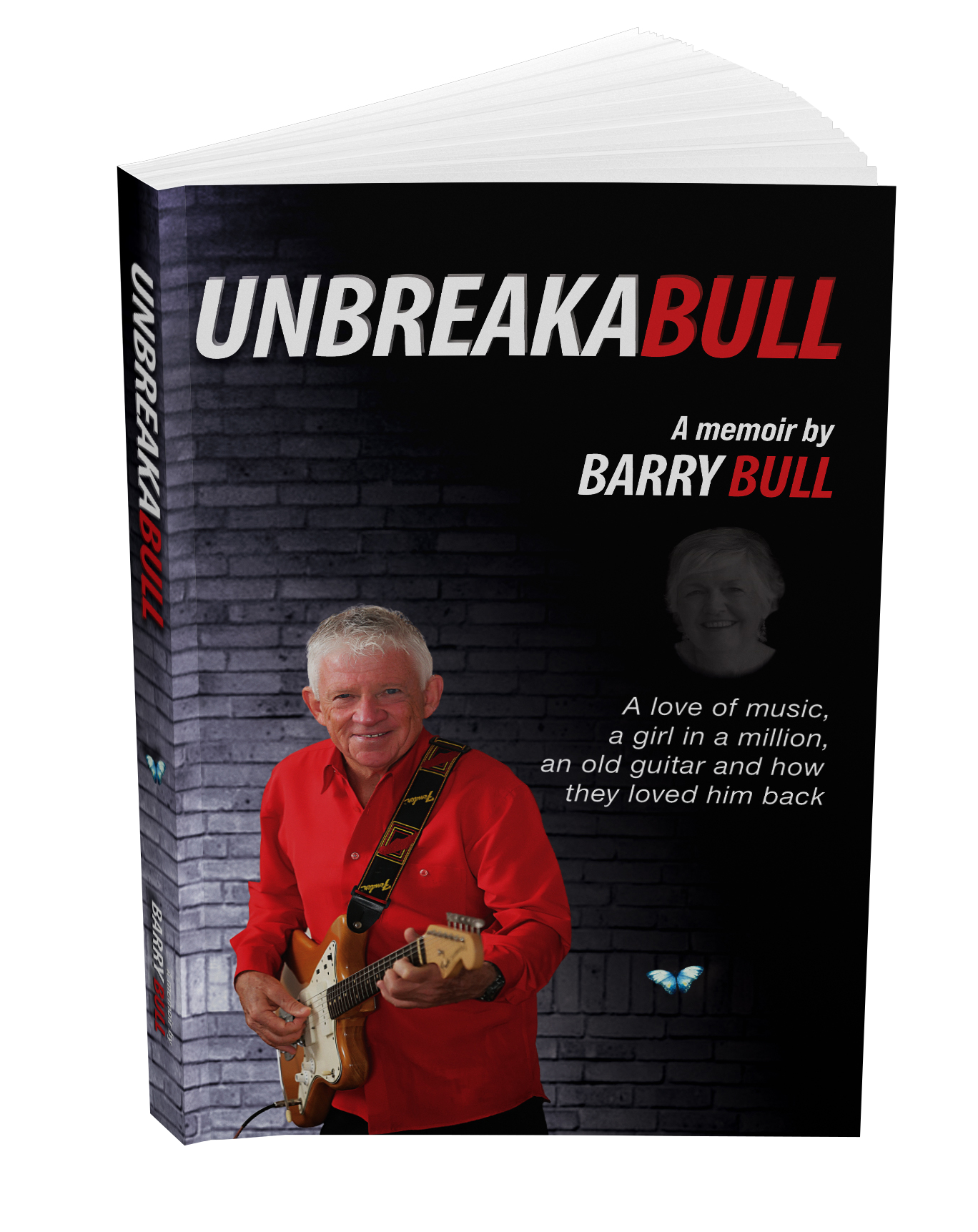 DESCRIPTION:
Limited edition signed print book.
One man's unique story, yet one which will inspire and uplift with its message of love, loss and music.
Barry Bull's concert is rocking along in its usual rollicking fashion when the music suddenly stops and his world comes crashing down.
In one brutal moment he loses his wife of fifty-two years. The grief that follows is unfathomable. There is nothing that all his close family and many loyal friends can do to rescue him from the depths of despair that follows. A life without the "support act" he first met in a teenage romance
seems unimaginable.
It was Kayleen, who gave him the strength to carry him through all that a life at the top of the Australian music industry can throw at him. A world without her is beyond belief. He shuts himself away from a world that has brought him so much success and happiness.
Finding a way back to a tolerable daily routine needs a road map that doesn't seem to exist. It is only when he discovers a cause close to his family's heart that he can set out on the long and arduous journey that awaits.
Sustained by memories of years spent mixing business and pleasure with many of the world's top music stars, he eventually fights his way back from despair.
Barry is a battler. He realises grief is another of life's battles to be overcome.
This intensely candid account of his journey – escalating his multi-award winning Toombul Music to iconic status in the Australian music industry and the backstage insights of rock 'n' rolls' greatest names – is one for all who have loved and lost and have music in their soul.
Unbreakabull interview with Roxanne McCarty- O'Kane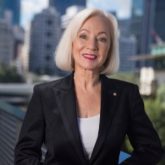 Dr Dimity Dornan AO
Adjunct Professor UQ, Adjunct Associate Professor QUT and Griffith University; PhD UQ; HonDUniv USQ; BSpThy; FSPAA; CpSp; LSLS Cert AVT; FQA; FTSE.
Executive Director and Founder, Hear and Say
Founder and Chair, Bionics Queensland  
April 2021
"Barry has delivered an inspirational feast of courage in adversity and a solution to one of life's greatest stressors: the loss of a beloved partner.
This story is set against the backdrop of Barry's part in the growth of the music industry in Australia, and how one woman provided unwavering support. 
Most of all it is a love story for a little grandson who could not hear the music, and for Kayleen, who was the inspiration behind it all.
This is also the story of how a cochlear impact gave Archie the power to hear and opened the world of music to his soul.
It is a success story of epic proportions!"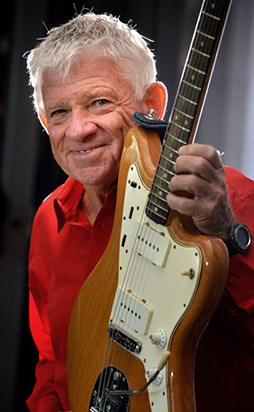 Barry Bull OAM is a six decade Australian music industry veteran.
A former musician, and national record company executive, he is best known for his multi-award winning Brisbane business Toombul Music, which he kept in the spotlight of the Australian music industry for over 25 years.
This iconic business went on to win over thirty Westfield retail awards including the prestigious National Individual Specialty Retailer Award three times. In 1997 Barry was an inaugural inductee into the Westfield Hall of Fame for retail excellence, 2001 presented with a Westfield Legend Award, and 2003 honoured with a Commonwealth Centenary Medal for distinguished achievement in business.
Barry is a published author of 'A little Bull goes a long way', 'My little book of Bull', 'The Bullseye Principle', 'Take the Bull' by the Horns', business books, and compiler of Music for Cruizin' CD series released through Sony Music,
which earned him an ARIA gold album award in 2014.
Barry has reunited with his musical roots and performs live musical concerts of his memoirs, the latest of which is The Gift of Sound fund-raising presentations, supporting awareness for hearing impaired children. An acknowledged Community Champion for 'Hear and Say', and an active member of the Mooloolaba Surf Club, in the 2019 Australia Day Honours list, Barry was awarded a Medal of the Order of Australia (OAM) for service to the performing arts, particularly through music.
A passion for early morning ocean swimming, and playing his vintage Fender guitar, his latest project is completing a book of memoirs in honour of his late wife Kayleen. Two sons, a daughter and seven grandsons are his legacy.
Contact: PH. 0419 331 125 E: barry@barrybull.com Web: www.barrybull.com
Barry's music CD: Unexpected Hero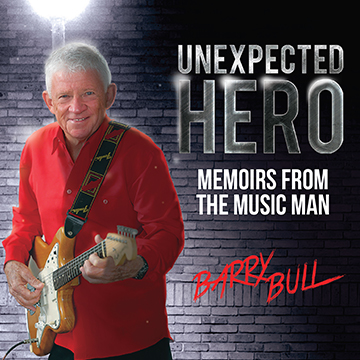 DESCRIPTION:
This collection of instrumental hits, is a timeless legacy of memories that inspired me, tunes I love to play, faithfully captured by the many exquisite voices of my Unexpected Hero.
Unexpected Hero….new limited edition …15 track CD
| | |
| --- | --- |
| Track | Title |
| 1. | Narrative/Intro. |
| 2. | Apache |
| 3. | Sleepwalk |
| 4. | Ghost Riders in the Sky |
| 5. | Perfidia |
| 6. | I Only Have Eyes For You |
| 7. | A Taste of Honey |
| 8. | I Can See Clearly Now |
| 9. | Wonderful Land |
| 10. | How Deep Is Your Love |
| 11. | Sealed With A Kiss |
| 12. | The Young Comes |
| 13. | You've Got A Friend |
| 14. | Pipeline |
| 15. | James Bond Theme |