Barry Bull – The Author
From the 'Hitlist' in the best selling A little bull goes a long way, to 'Bullisms' in My little book of bull, to 'Targeting your business' in The Bullseye Principle  and to 'Seize the moment' in his latest, Take the bull by the horns', Barry's books continue to inspire. Thousands of readers have come to enjoy his entertaining tales of working with some of the world's best-know celebrities and be motivated by his incredible journey through retail and beyond. And where words fail-the music speaks.
"Take the bull by the horns. The author has cleverly mixed together business acumen with human experience via a journey from the fifties to the digital age."
---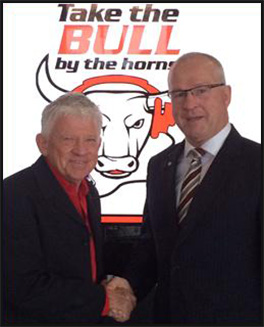 At a time when most successful businessmen are wondering how to increase their networking, Barry found the perfect answer. He decided to publish the amazing story of his 50 plus year journey in the music industry and share his top 10 business Hitlist along the way. And include some unforgett-a-bull stories of his encounters with some of the worlds biggest music superstars. "A Little Bull goes a Long Way" is an apt title for his remarkable journey and has become a best selling small business handbook.
His second book My Little Book of Bull is an A – Z business handbook of simply the best inspirational thoughts and business insights that have served him well over his long play career. In his third publication The Bullseye Principle, Barry explains his seven steps to achieving goals.
His latest book Take the Bull by the horns, launched June 2014 by Sunshine Coast Mayor, Mark Jamieson (beside), is his best yet. Part memoir, part business guide and ode to the golden days of music retailing and the memories of Toombul Music. It is available to purchase on this website and downloaded digitally via iTunes or Amazon Kindle.